| Brown | Rainbow | Other | Total |
| --- | --- | --- | --- |
| 0 | 52 | 5 | 57 |
Average Weight: 3lb 10oz
Best Fish: 10lb rainbow to Mike Webb
Rod Average: 2.3
Notes
Some serious wind and driving rain made for somewhat unpleasant conditions for some of the week but if you timed your visit to fit in with one of the windows of decent weather you could expect to catch fish.
Snakes were the 'go–to' pattern for the week, coupled with intermediate lines, but as always the 'usual suspects' such as hare's ears and blobs pulled the odd fish too. The biggest fish of the week was a lovely double figure rainbow to Mike Webb. Mike is the first to admit that his self takes of the fish he caught were not the best. Don't worry Mike, the fish is a cracker, that's all that matters.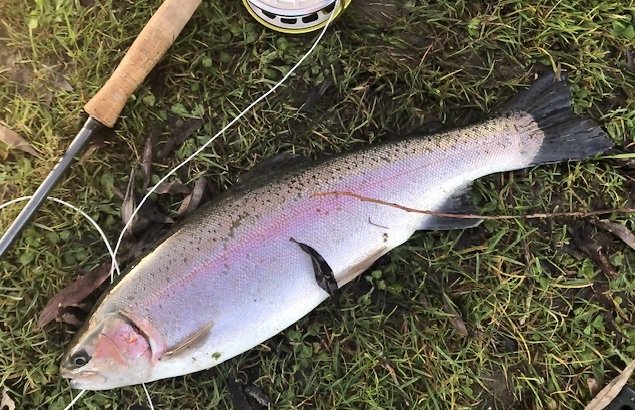 There will be another stocking of double figure fish just ahead of our annual fur and feather match too, check out the details below.
2020 FUR AND FEATHER
Don't forget that our annual fur and feather match takes place on Haywards Farm Lake on Saturday 14th December, with a range of great prizes up for grabs. Tickets cost £45 pp and include bacon rolls and hot drinks on arrival with fishing between 10am to 3pm, followed by the prize giving. Call us on 0118 930 3860 to reserve a place.